Your apartment on the west bank - Königsweg 56
Your student apartment is 15 m² and is fully furnished with a bed, a wardrobe and a desk, including an en suite bathroom (or shared bathroom with one mate).
You share your unidorm apartment on the west bank with 4 other flatmates – as a 5-person flat share.
All inclusive!
Your rent includes WIFI, electricity and heating!
No hidden costs!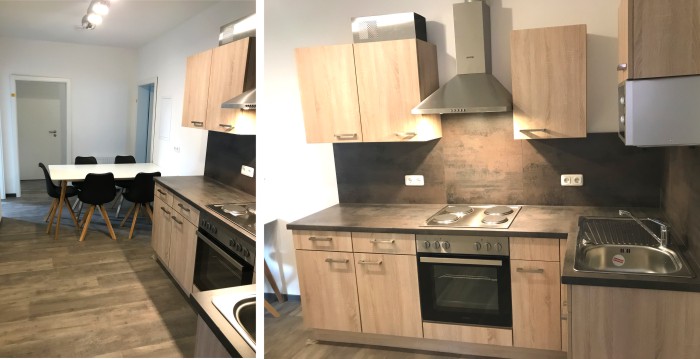 Move in and enjoy! Your brand new student apartment is fully furnished and your rent includes all costs. There is no need to worry about anything.

Just enjoy the sun together with some friends in our lovely backyard. 
You are tired of waiting for the shower to be free? No more need for getting up early to avoid this issue – you have the comfort of an en suite bathroom (sometimes you will share your bathroom with one mate).

When you need time to study you have the choice of using your desk in your own room, or gather a group for studying in one of the common rooms.
Instant noodles or a 5-course menu– in the modern common kitchens you can prepare both – have a quick snack or invite your friends for a cozy dinner. 
Fast internet should not be missing. You want to skype home, and when duty calls, call up information and download university scripts to your computer.
The location on the west bank
The second unidorm student residence was completed in 2017. An old building was completely renovated and rebuilt for this purpose. The rooms are approx 15 square meters and you live with 4 friends in a 5-person shared flat.
Public transport and shops can be found in the immediate vicinity of the new student residence, as can the main train station and downtown Kiel.
Or would you rather live on the FH campus?